Remote Control: Real-World Benefits of Virtual Litigation
June 3, 2022
In the May 30, 2022, issue of Michigan Lawyers Weekly, Williams, Williams, Rattner & Plunkett attorneys Richard E. Rassel III and Jeremy M. Manson share their experiences navigating the complex and novel challenges of virtual commercial litigation in the age of COVID.
The article chronicles the challenges—and benefits—of litigating a case during the height of the pandemic. Rick and Jeremy represented a Michigan-based global exporter in a suit claiming breach of contract, tortious interference, conversion, slander of title, and claim and delivery.
As they admitted in the piece:
We needed to teach ourselves how to litigate a complex business case remotely, and our education started on day one. Immediately, and without a playbook, we were on a fast-track arbitration schedule…. [W]e had to conduct extensive discovery in record time. Our client's representatives, the defendant's representatives, other witnesses, and thousands of business documents and files were located across the globe, from Paris to China, from California to Michigan.
The remote litigation experience taught Rick and Jeremy several valuable lessons. Most importantly, they learned remote proceedings are time-efficient, and the cost savings are obvious, resulting in fewer fees billed to the client to resolve a dispute much more quickly.
Please visit Michigan Lawyers Weekly to read the complete article (subscription required).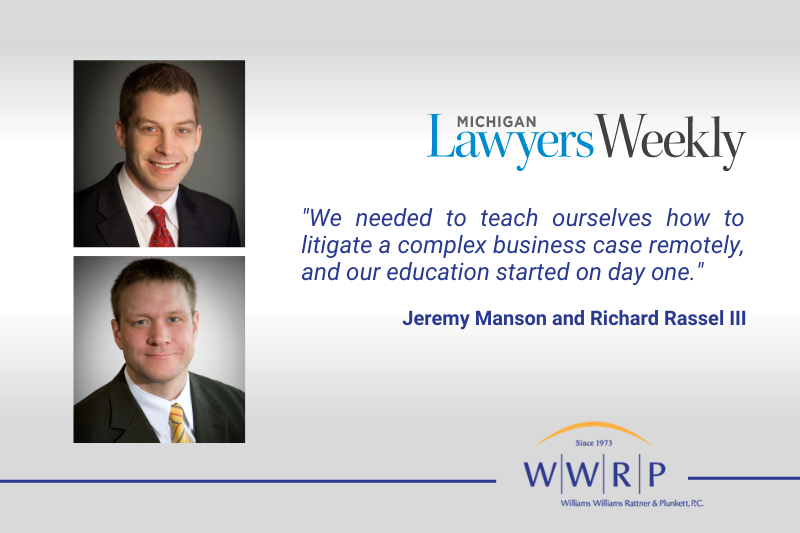 Related Attorneys
Practice Areas